Write your own review on our Yelp page:

Dr. Lori Portnoy - Google Search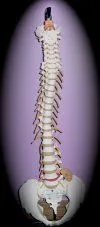 "From the time I walked in for my first visit in June of 2011, I felt that the recommendation that I was given, to see Dr. Lori Portnoy, was going to result in a positive outcome. Beginning with Yesenia's warm welcome, and then Dr. Portnoy's attentiveness to detail when questioning my reasons for being there, followed by her professionalism while working with my general practitioner doctor, as well as the other spine and nerve specialists that I required, I knew I had come to the right place, and was looking forward to that positive outcome. It only takes a couple of visits to realize that Dr. Portnoy and her staff do not fit the stereotypes given to most chiropractors. Her business card says it all right up front, "a warm & caring place for healing", it sure has been for me. What has impressed me through all of my visits is Dr. Portnoy's non-experimental approach to the care you need. She makes it a point to only perform the procedures necessary to address your physical issues, and once satisfied with the results moves you along looking forward to you not needing her care any longer for those issues. I would be remiss if I did not take the opportunity to also give credit to her extremely professional massage therapist Cari, who has also been in my opinion, a vital part in my healing process, and if it were not for the close and attentive communication between her and Dr. Portnoy, I do not believe that I would have made the progress that I have over the past year. I look forward to my visit to this practice to go from ones of healing and repair, to just general tune-ups and being a part of following a good health routine. Thanks for being here".
Mark G.

"I have counted on Lori Portnoy's chiropractic skills for close to 20 years and I recommend her to anyone asking me for a great chiropractor. There has never been a time that my neck or back pain needed help that turning to Lori has not helped minimize or completely eradicate my discomfort. Dr. Portnoy knows her profession, knows her patients and best of all, will never recommend a chiropractic procedure if she does not think it will help you. Never doubt that Dr. Portnoy's small stature cannot deliver the manipulative strength needed by a good chiropractor. Her hands and her techniqes always prove her expertise to be the best Chicago has to offer."
Michael K.

"I came in for a consultation and after just three visits feel great. Dr. Lori makes you feel better immediately"
Molly A.

"I've been going to Dr. Lori for more then 20 years. She's always smiling and is such a positive peson and has consistently helped me with my changing back issues. She's easy to see and even saw me at home during an emergency. She's the best!"
Kate F.

"We LOVE Dr. Portnoy! I've referred lots of folks, and I'll do it again. Dr. Portnoy keeps me running smoothly"
Amy & Phil T.

"Dr. Portnoy is an excellent Chiropractor. She really listens to your individual concerns and problem areas and pays special attention to work on those areas, each appointment. She provides a comfotable atmosphere and it's obvious that she is an experienced, attentive doctor. I'm so glad to have been referred to her".
Amanda K.

"Great massages and adjustments. Very friendly staff as well and helpful always".
Marsha D.

"Every time I come to see you I am so glad you are here. Once in a while I have come during off hours and I have felt absolutley crushed. It's both the body work and the warm friendly welcome. Thanks ladies for being here for me and all of us".
Jane H.

"I injured my neck when I was younger and visited a "big" chiropractic company because it was conveniently located.....big mistake! He carelessly did not xray my neck and commented how easily my neck twisted, and constantly cracked my neck. For the next 2 years every night I slept with a hot water bottle under my neck, I had severe headaches. Due to this experience I never wanted to see a chiropractor again. After several more years I couldn't stand it anymore and remembered meeting Dr. Portnoy outside of the office 20 years before. She literally saved my life! she made all the difference for me. I will come here to get adjusted at the first sight of a headache. I will say when she retires I am done for".
Pam W.

"I have been seeing Dr. Portnoy for almost twenty years and she has helped me greatly. I had always been skeptical about Chiropractic care but had heard so many good things about Dr. Portnoy that I thought I would see her for my back problems. She was so wonderful that I felt as if she had worked a miracle. I see her monthly now and would refer her to anyone."
Judy M.

"I have been seen Dr. Portnoy for over a year now and I am thoroughly impressed. The office is so kind and polite, always very efficient. It is the most enjoyable 15 minutes of my week! I suffer from migraines and after becoming pregnant, they have turned in to tension headaches. When I feel one coming on, I head to Alpha Family Chiropractors and after an adjustment, they are gone! We are moving at the end of the month and I am so sad to be leaving Dr. Portnoy and her staff. Pleasant surprise- when I told her I was moving, she didn't know anyone in the area, so she told me to find her 5 chiropractors and SHE WOULD CALL THEM! A doctor who will do the leg work to make sure you find another good doctor? Unheard of!!! A huge thank you to Dr. Portnoy and her staff (Yesenia and massage therapist Cari are AMAZING!) for making my headaches and back pain, not only tolerable but practically non existent!"
Kathleen S.

"I've been seeing Dr. Lori for almost two years and could not be more satisfied with my experience. She is an effective and thorough Dr. and her staff is extremely helpful and friendly. Highly recommended."
Dana C.

"Dr. Lori is a genuine healer. She has the ability to listen to what you need and to deliver. I've been seeing her for over 20 years and that is only when I have spot adjustments that I need to tweak something. I believe my body's health is my own responsibility, so I go to yoga and workout. But I also work in a physical job, landscaping, and sometimes things get thrown out of wack. This early summer it was my neck. After only four visits with combined massage and adjustment, I was better than I'd been before the injury. Thank you Dr. Portnoy!"
Julia B.